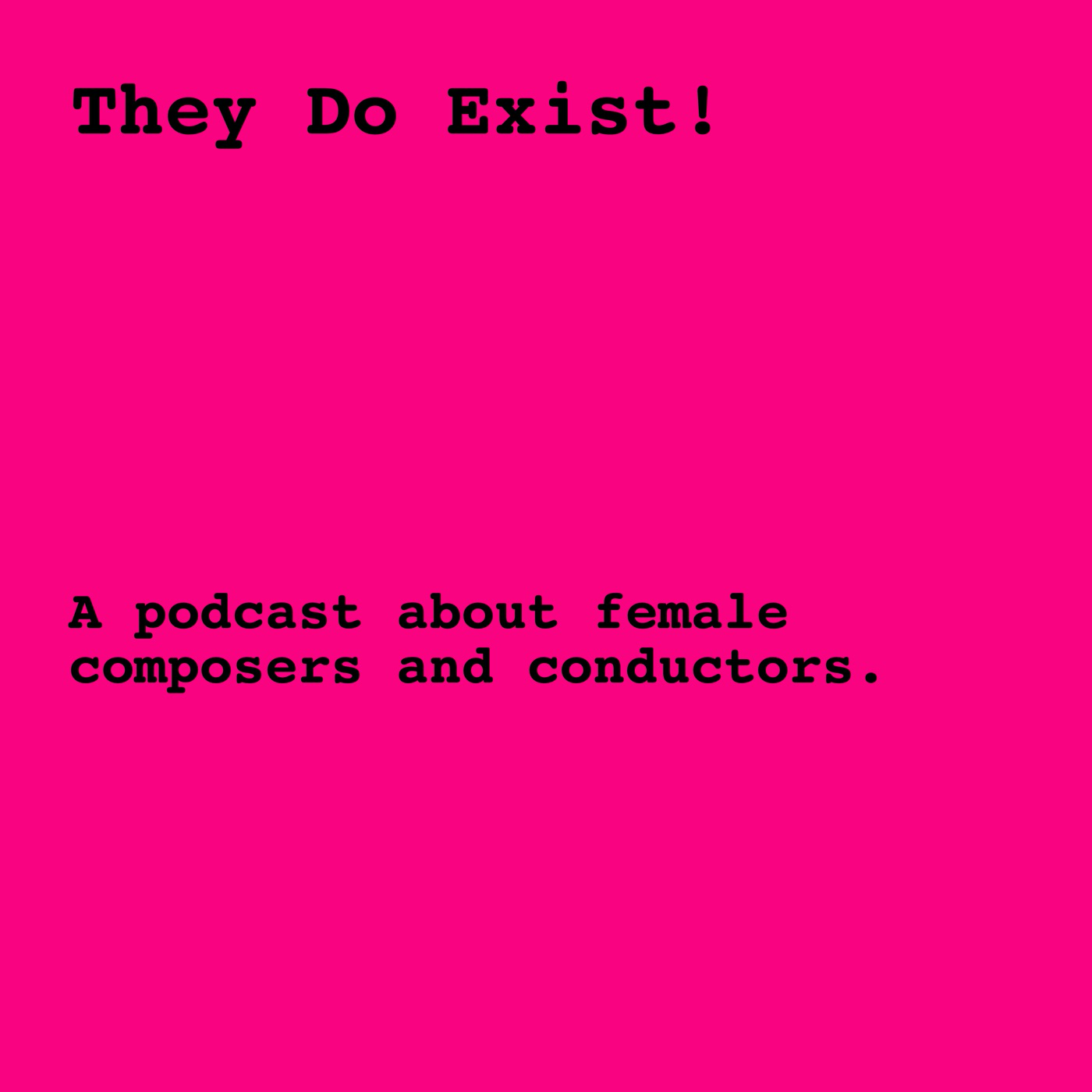 Dr. Ellen Grolman- www.musicofourmothers.com
Emilia DiCola- Twitter/Instagram @EmiliaDiCola
They Do Exist!- Twitter, Instagram, Facebook @TheyDoExistPod
Website- www.TheyDoExistPodcast.com
Florence Price USA 1887-1953. 
MISSISSIPPI SUITE  [28:00]
WOMEN'S PHILHARMONIC
APO HSU, conductor
Caroline Shaw USA 
PARTITA FOR 8 VOICES: PASSACAGLIA [5:55]
ROOMFUL OF TEETH ENSEMBLE
Francesca Lebrun  Germany 1756-1791
SONATA FOR VIOLIN AND PIANO IN D MAJOR; 1ST MOVEMENT  [7:06]
DANA MAIBEN, VIOLIN; MONIKA JAKUC, PIANO
Dobrinka Tabakova   Bulgaria 1980. 
SUITE IN OLD STYLE; PRELUDE/FANFARE FROM THE BALCONIES [6:00]
For solo viola, harpsichord, and strings
LITHUANIAN CHAMBER ORCHESTRA
MAXIN RYSANOV, VIOLA/CONDUCTOR
 Hildegard of Bingen  1098-1179
AVE GENEROSA [6:32]
OXFORD CAMERATA; JEREMY SUMMERLY 
BINDERS FULL OF WOMEN
Brenda Gifford Yuin composer (Aboriginal people from S coast of NSW).
PLOVER BIRD [3:28]
OFFSPRING ENSEMBLE
 Vittoria Aleotti Italy c. 1575-after 1620.  
FROM GHIRLANDA DE MADRIGALI: HOR CHE LA VAGA AURORA [2:01]
FROM GHIRLANDA DE MADRIGALI: COR MIO PERCHE PUR PIANGI [2:08]
VILLANELLA BASEL
Maria Szymanowska Poland 1789-1831.  
FROM 18 DANSES: NO. 6. VALSE IN A MAJOR [01.58]
FROM 18 DANSES; NO. 4. POLONAISE IN F MINOR [03.57]
ALEXANDER KOSTRITSA, PIANO
Jennifer Higdon 1962.
FANFARE RITMICO [6:00]
US AIR FORCE CONCERT BAND 
COL. LARRY H LANG, CONDUCTOR
Louise Farrenc France 1804-1875. 
NONET IN E-FLAT MAJOR OP 38 III SCHERZO VIVACE  [4.25]
 PHILIPPE BERNOLD, FLUTE; FRANCOIS LELUX, OBOE; ROMAIN GOYUT, CLARINET ANDRE CAZALET, HORN; GILBERT AUDIN, BASSOON; GUILLAUME SUTRE, VLN MIGUEL DA SILVA, VIOLA; FRANCOIS SALQUE, CELLO; VINCENT PASQUIER, BASS
 Okkyung Lee Korea 1975 
SKY  [6:48]
OKKYUNG LEE
***All music used for this episode was purchased on either Apple Music or Amazon. It is intended to be used as a promotional vehicle for the composers and performers. No money is being made off of this podcast.***